The COVID-19 pandemic has brought a whole new meaning to this year's spring cleaning. Heeding the call to stop the spread of the virus from the United States Centers for Disease Control and Prevention (CDC), business owners are doubling down in their efforts to clean and sanitize their premises. They leave no stones unturned in the process. Professional cleaning service companies all over the country, such as Summit Maintenance, have seen a surge in the demand for their services in the past month. Many companies have waitlisted their business premises for deep cleaning in the next couple of weeks, taking full advantage of the lockdown and quarantine measures.
Why is professional cleaning a must for your business during this time? (Image Source: Pexels)
But what is deep cleaning? How is it different from normal office cleaning services? Does it really work, or is it just a new fad that got blown up because of the situation?
How deep cleaning helps prevent the spread of COVID-19
People are intensely cleaning both their homes and business premises--dusting, washing, and disinfecting every corner of the property. Rightfully so, as the coronavirus is known for being transmitted mostly through droplets (saliva and mucus) from person to person. There is also solid evidence that shows it can be transmitted by touching infected surfaces. These surfaces can be anything such as doorknobs, handrails, remote controls, park benches, light switches, and even mobile phone screens.
As a matter of fact, new studies suggest that the virus can thrive without a host, on plastic or steel surfaces for days. This is why the CDC strongly recommends cleaning and disinfecting. This is where the importance of deep cleaning comes into the picture.
How deep cleaning differs from regular office cleaning
Normal office cleaning is regularly done (scheduled) to clean and improve the existing conditions of a business space. This includes cleaning and vacuuming carpets, curtains, blinds, and drapes; dusting the walls and doors; and cleaning working spaces and surfaces in the kitchen and bathroom, etc. Deep cleaning, meanwhile, cleans and sanitizes everything. This involves the use of special cleaning equipment, chemicals, and cleansing agents to kill disease-causing bacteria and viruses.
More on the benefits of deep cleaning
Your company needs it more than you think. Here's what it can do for you in terms of health and safety.
Healthy and safe work environment
A clean and sanitized office space makes for a healthy and safe environment. Many commercial janitorial cleaning service companies, such as Summit Maintenance, provide commercial deep cleaning services with utmost regard for safety. This is why "green" and toxin-free cleaning products that are not harmful to the environment or cause adverse side-effects to people who will be using the commercial spaces are used.
Deep cleaning also includes cleaning the air ducts, air conditioning vents, carpets, upholstery, etc.; extracting allergens; and eliminating not just dirt and grime, but also hazardous elements and environmental pollutants.
Office deep cleaners use state-of-the-art technology and sophisticated equipment to remove disease-causing germs in every corner of your office.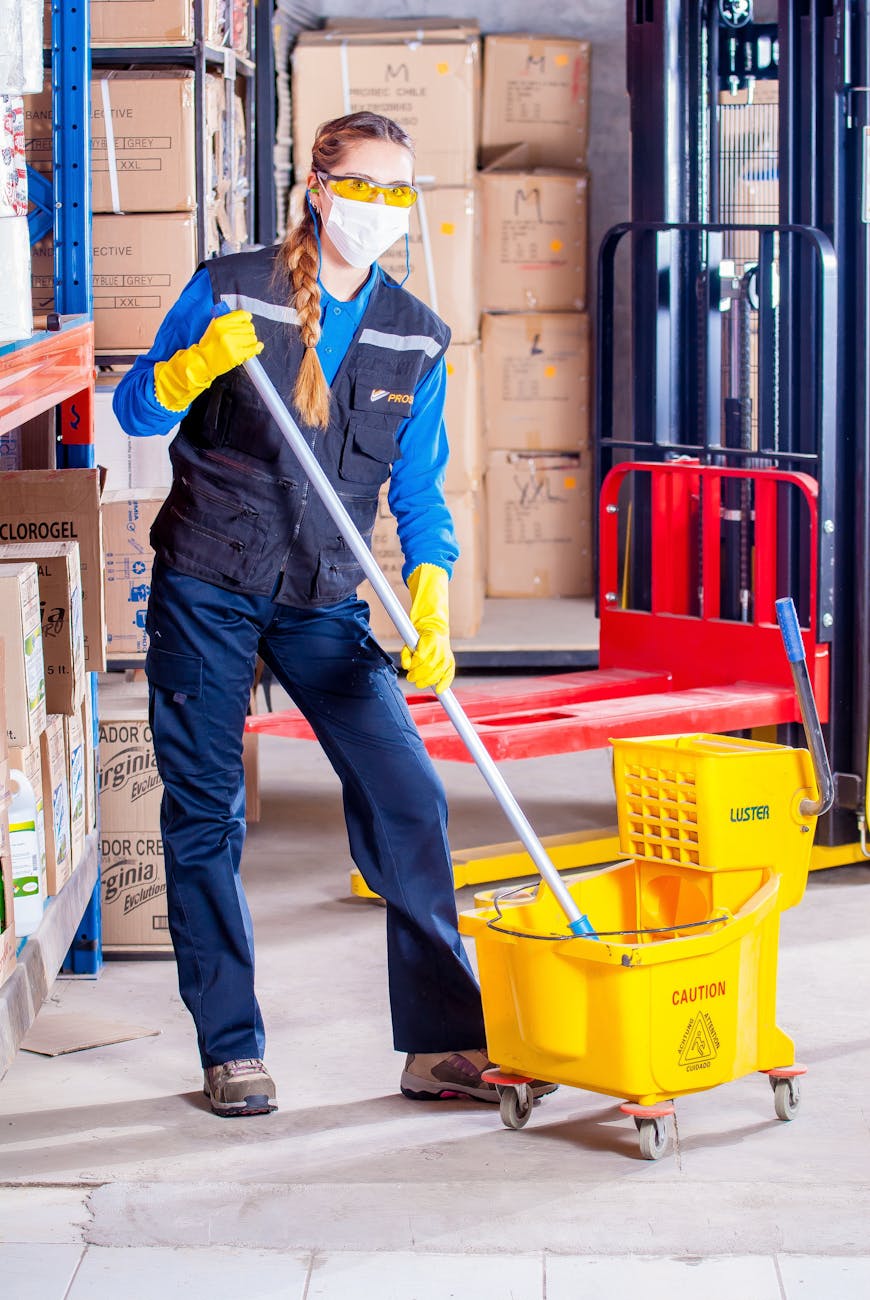 Why should businesses invest in deep cleaning? (Image Source: Pexels)
Lesser sick days for everyone
Since the office space is clean and safe, everyone in it will have lesser sick days throughout the year. Bacteria and viruses are spread easily throughout the confined space of the office. They can live and thrive in different surfaces, and be transmitted through touch, droplets, and even through the air. That is why deep cleaning is extremely important, especially in shared spaces such as the pantry, bathroom, hallways, etc.
Whether an illness is affecting your admin staff, sales team, or marketing team, it will be you and your company's loss at the end of the day. Thus, it is extremely important to stop the spread of these disease-causing germs in your premises.
Aside from investing in the services of professional cleaners, it is also a good idea to invest in hand-dryers, hand sanitizers, antiseptic soaps, etc.
Gives your business premises that clean and professional look
Your business space is a reflection of your company, your brand, and your commitment to quality. The phrase "first impressions last" couldn't be more applicable in this case. People will notice the smallest dirt or stain on the sofa at the reception, as well as dust-filled carpets and stains on the wall. Obviously, you want your business and brand to be respected. So, you need to impress your clients and customers with a clean and professional space that will make them feel welcome and safe.
Deep cleaners, such as those from Summit Maintenance, use industrial-grade vacuum machines to thoroughly suck all dirt and grime from the narrowest corners of your business premises. They are well-equipped and well-skilled in ensuring the fresh, clean, and professional look of your office.
Long-term cost-effective solution
Prevention is better than a cure. When it comes to maintaining the cleanliness of your office space, it is best to keep it clean and sanitized than wait for a problem to come up and then you have to scramble for solutions. Regular office cleaning may be cheaper, but it's not enough to ensure the sanitation of your office space.
Deep cleaning also takes care of your precious aesthetic investments in your business premises, such as upholstery and carpets. You can definitely save a lot of money in the long run if they are kept clean and sanitized.
No need for in-house cleaners
In-house cleaning is the old-school approach. Not only do you need to worry about the monthly salaries and benefits of your in-house cleaners, you will also be responsible for the purchase, storage, and maintenance of cleaning equipment, tools, and cleaning agents. Hiring professional cleaners saves you from all these stresses. They can come and clean on set schedules. You can even schedule the cleaning outside of your operating hours, so your business operations won't be interrupted.
Why should you hire Summit Maintenance for deep business cleaning?
Proper hygiene and maintenance are emphasized to stop the spread of the virus that's causing this pandemic. For this reason, business cleaning services such as Summit Maintenance are more valuable now than ever. By choosing us to handle your business cleaning, you can expect cost-efficient and top quality service. We take pride in exceeding our customers' expectations and you can learn more about our reputation here.
We also provide services for a wide range of industries that require janitorial maintenance in Denver. Find out if we serve your business from this list of industries. We provide 24/7 service if you are looking for professional cleaning services near me, so be sure to call us at (303) 458-1912.
---